Virtual Gallery
Historical Buildings of Washington D.C.
Historical analysis provided by embassy.org Associate, Kelsey & Associates. Copyright © 1997, Kelsey & Associates.
The Indonesian Embassy
2020 Massachusetts Avenue, N.W.
Washington, D.C. 20036
The Walsh-McLean House
Built 1901-1903
Architect Henry Anderson
The Walsh-McLean House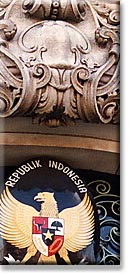 Constructed for Thomas F. Walsh, the mansion that now serves as the Indonesian Embassy was once the social center for Dupont Circle and Washington itself, as it was the most expensive private house built to date, at the cost of $835,000. Thomas F. Walsh had made his fortune by discovering and opening the Camp Bird gold mine in Quary, Colorado. At its peak, it was producing $5,000 worth of gold per day, and Walsh sold it in 1903 for $5 million dollars. He had emigrated penniless from Ireland in 1869 at the age of 19.
Walsh's daughter and socialite Evalyn Walsh McLean indicated in her 1936 memoirs entitled "Father Struck it Rich," that the family referred to the mansion simply as "2020," "as if to compensate for its regal size and splendor." Indeed, the mansion boasted 60 rooms and four stories behind a Beaux-Arts facade. In 1919, the Walshes hosted visiting Belgian royalty along with the Vice President and Mrs. Thomas Riley at an official state dinner, as the recent stroke of President Woodrow Wilson had rendered the White House as inappropriate.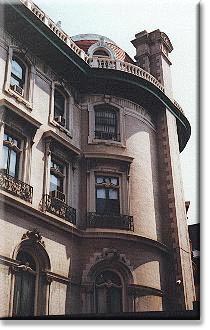 Thomas Walsh specified to New York architect Henry Anderson that he wanted a main staircase reminiscent of an ocean liner, and thus he created an open decked promenade through three floors of carved mahogany. A theater and ballroom occupied the fourth floor, to which guests were transported by early elevators. As testament to this financial beginnings, Walsh had the architect design a large piece of gold ore to be imbedded in the arch of the main entrance. An apartment was created for King Leopold of Belgium, later used by King Albert, both family friends. Thomas Walsh died in 1910.
Mrs. Evalyn Walsh McLean, the last private owner of the Hope diamond, inherited the mansion upon the death of her mother in 1932. Several members of the family succumbed to mental illnesses and coincidental automobile accidents that many attributed to the curse of the Hope diamond. She rented the mansion to the Rural Rehabilitation Resettlement Administration and later during World War II, to the Red Cross. She died in 1947.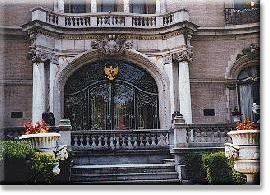 The house was purchased by the Indonesian government in 1952 for $335,000. Following a period of rehabilitation, the opening reception in 1952 was hosted by Ambassador Ali Sastroamidjojo. An addition was constructed in 1982, set back from Massachusetts Avenue that opened up many of the large rooms on the main floor for entertaining and reception purposes. A 100 year old collection of musical instruments, called a gamelan, is featured in one of the main reception rooms today.
[8/26/97]