Dupont Circle is one of Washington's many traffic circles, which help to manage traffic flow where streets on the grid (usually east-west "letter" streets, like K street, or M street, and north-south numbered streets) intersect with the avenues named for states, which cut across the city on diagonals.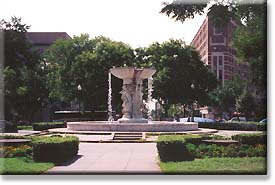 Dupont Circle, originally Pacific Circle, was renamed for Civil War hero Admiral Samuel Francis duPont (b. 1803, d. 1865), and sits atop the Dupont Circle Metro station. At one time the circle also housed an underground trolley. One can still see trolley tracks in some parts of the city, e.g., running along some of Georgetown's cobbled streets.
Dupont Circle is at the intersection of P and 19th streets, and three major avenues: Connecticut, New Hampshire, and Massachusetts. Connecticut stretches south southeast toward the business center of the District and toward the White House, and north northwest toward the National Zoo. New Hampshire runs southwest toward Georgetown, and northeast past the Adams Morgan neighborhood. Massachusetts stretches southeast toward the Convention Center, and northwest toward the National Cathedral.
At the center of the Circle is a fountain, which replaced a statue of duPont that was later removed to his home state of Delaware. The three figures on the fountain represent the Sea, Wind, and the Stars. The fountain was dedicated in 1921. (Detailed view of the Goddess of the Stars)
In 1997, Dupont Circle was the scene of a diplomatic incident, when an accident caused by a Georgian diplomat killed Joviane Waltrick.