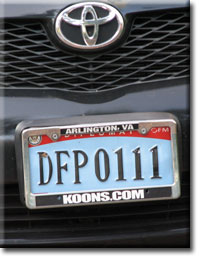 When they're not engaged in diplomacy, diplomats are driving (or driven) to and from those places where they practice diplomacy; Washington D.C. is home to thousands of diplomatic vehicles. Unlike New York City (where UN diplomats' unpaid parking tickets caused an international crisis in 1997), Washington is fairly car-friendly, and many of the embassies are equipped with parking garages (some quite extensive, with multiple underground levels preserving the stately look of the mission above).
Diplomatic license plates are assigned by the State Department's Office of Foreign Missions (which also handles real estate, tax, and other issues related to maintaining and staffing embassies and consulates in the United States). The initial letter on the plate ("D" or "S") indicates that the car is assigned to diplomatic personnel or staff, while the next two letters indicate the country.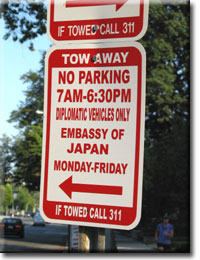 As a main, scenic thoroughfare, much of Massachusetts Avenue is marked for no parking, though parking is possible on most side streets. In some cases, one can find street parking reserved for the diplomats of the adjacent embassy.