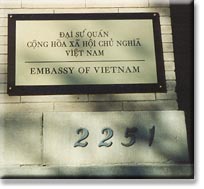 The Washington D.C. foreign affairs community is a multilingual one. Many diplomats call Washington D.C. only a temporary home, as they're reassigned to new positions at new posts, in new countries, climbing a career ladder that runs as much sideways as up.
Even while serving in the U.S., a diplomat may need to work in a variety of languages, whether communicating with his peers, providing services to citizens, or assisting foreign citizens with business requiring the embassy's involvement.
Many international organizations have multiple official languages; the Organization of American States, headquartered in Washington D.C., has four: English, Spanish, French and Portuguese, the national languages of the countries of North and South America.