Phone:



Jaleo DC (202) 628-7949
Jaleo Bethesda (301) 913-0003
Jaleo Crystal City (703) 413-8181

Fax:



Jaleo DC (202) 628-7952
Jaleo Bethesda (301) 913-9137
Jaleo Crystal City (703) 413-5566

Web: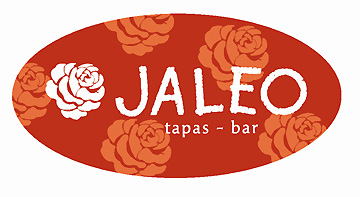 Jaleo is a restaurant and bar featuring Spanish tapas started by legendary Spanish chef Jose Andres. Jaleo offers lunch, dinner, Saturday and Sunday brunch, and a great happy hour at three locations: Penn Quarter DC, Bethesda, and Crystal City.
Under the direction of Bon Appetit's Chef of the Year, José Andrés, Jaleo's menu offers diners an extensive menu of over 60 different hot and cold tapas, little dishes, reflecting the rich regional diversity of classical and contemporary Spanish cuisine. The bar boasts a wide variety of Spanish red, white and rosé wines, available by the glass, as well as a selection of sherries.
Jaleo means "uproar, revelry, merry-making" in Spanish and the restaurant takes its name from the John Singer Sargent painting that hangs in the Isabella Stewart Gardner Museum in Boston. The energy and vitality of the painting are reflected in each of Jaleo's locations which are dominated by large murals inspired Sargent's flamenco dancer.
Jaleo offers set menus for larger parties celebrating birthdays and business lunches. Their happy hour is from 5pm to 7pm Monday through Friday and they offer $3.50 sangria, draft beer, or house wine. On Wednesday evenings from 5-7pm, Jaleo offers pinxtos, small bites of tapas atop little toast rounds along with our standard cocktail specials.
"Tapas are now so ubiquitous that I've seen even Chinese restaurants labeling small plates of appetizers that way. For the real deal, though, I head to one of the three area Spanish restaurants whose name refers to merrymaking. The more I eat tapas everywhere else, the more I appreciate the concept developed and nurtured by chef Jose Andres." -- Tom Sietsema, Food Critic for the Washington Post