Phone:

(301) 881-8960

Fax:

(301) 770-2297

E-mail:

Web:

Facebook: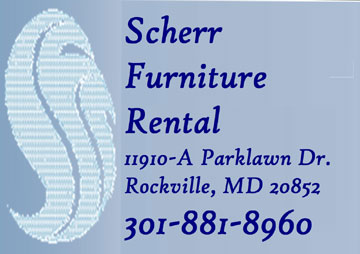 Scherr Furniture Rental is your one-stop shop for all of your furniture needs for your new home. We will make your move as easy as possible by giving you the best selection of furniture and by making your transition to the United States worry free.
Scherr Furniture Rental has been in business for over 35 years and prides itself on excellent customer serivce, low-affordable pricing and a huge selection of both rental furniture as well as retail. Through our large showroom and extensive catalogues, we will make sure that whatever best fits your style is exactly what you will receive.
Short term and long term rental options are available!
Give us a call or come in today to take advantage of what Scherr Furniture Rental has to offer!