Phone:


202/298-7800
800/348-7203

Fax:

202/333-5792

Web:

Facebook:

Twitter:
1111 30th St NW & 1000 29th St NW
Washington, DC 20007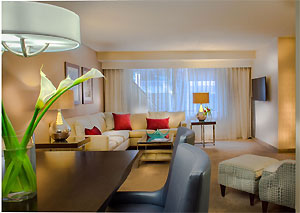 Georgetown Suites doesn't look, act, or treat guests quite like a "typical" hotel. It's more like you're coming to visit some friends for a few days than checking into a hotel - assuming those friends have big rooms, live in the heart of the Georgetown neighborhood, and make sure you're having a good time. In a sense, it's not exactly a hotel at all! We don't have a flashy lobby and we certainly don't abide by the stiff, strictly-business approach to hospitality.
Instead, we offer guest rooms with individual characteristics and personalities, spacious studio suites, one and two bedroom suites with fully-equipped in-room kitchens. Plus a long-tenured staff that genuinely takes personal interest in your happiness.
Conveniently located between Washington DC's treasure trove of museums, galleries, and many embassies, Georgetown Suites spans two buildings and provides everything you need for a short visit, or extended stay in the nation's capital.
In short, it's a hotel that usually acts like something better. Welcome back to Georgetown Suites! We look forward to seeing you!