In addition to the embassies, Massachusetts Avenue hosts a number of statues and monuments.
Near the corner of the avenue and S Street is a statue to Robert Emmet (b. 1778, d. 1803), an Irish patriot who led an abortive uprising against British troops on July 23, 1803, and who was executed after trial later that year. The statue was a gift to the Smithsonian in 1917, which in turn provided it to the National Park Service, which maintains the park in which the statue now stands. One of the charges against Emmet at his trial was that he was an emissary of France, in seeking French aid to oust the British from Ireland. In his speech at trial, Emmet said,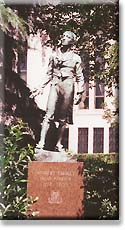 I wished to procure for my country the guarantee which Washington procured for America. To procure an aid, which, by its example, would be as important as its valor, disciplined. gallant, pregnant with science and experience; which would perceive the good and polish the rough points of our character. They would come to us as strangers and leave us as friends, after sharing in our perils and elevating our destiny. These were my objects--not to receive new taskmasters hilt to expel old tyrants: these were my views, and these only became Irishmen. It was for these ends I sought aid from France; because France, even as an enemy, could not he more implacable than the enemy already in the bosom of my country.
Lafayette Park, which the U.S. named for its own French ally in its war for independence, lies across Pennsylvania Avenue from the White House.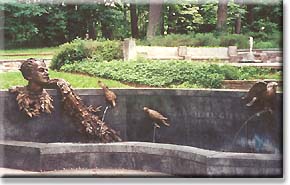 Further down Massachusetts, past Rock Creek Park, is a memorial garden to Lebanese-American poet Kahlil Gibran (b. 1883, d. 1931). The memorial garden, dedicated in 1991, was a project of the Kahlil Gibran Centennial Foundation, established in 1983 to celebrate the 100th anniversary of the poet's birth in Besherre, Lebanon.
I have learnt silence from the talkative, toleration from the intolerant, and kindness from the unkind; yet strange, I am ungrateful to these teachers.
- Kahlil Gibran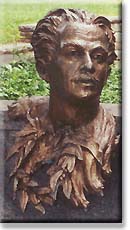 Work is love made visible. And if you cannot work with love but only with distaste, it is better that you should leave your work and sit at the gate of the temple and take alms of those who work with joy.
- Kahlil Gibran